SMS still has a lot to say
If texting seems like an obsolete channel in 2021, in this ebook you will find that you are on the wrong path! In 2018 4.2 billion SMS were sent, + 6% compared to 2017, and the growth of this technology is constantly increasing: in 2017, 56 billion dollars were reached and it is expected that this year will exceed the 90 billion.
Among the many factors that lie behind the success of this timeless technology, the main ones are the immediacy and incisiveness in communicating with the customer. Born in 1992, SMS has gone through an entire technological era, witnessing the rise of the internet, social networks and smartphones. Almost 30 years later, the SMS has kept its peculiarities intact, becoming one of the architraves of the Digital Marketing of companies.
Looking at the numbers, what other channel can guarantee open rates that cross the 98% threshold? Without forgetting that the 90% of these openings takes place within three minutes of delivery. The peculiarities of the SMS channel are not limited to the mare magnum of transactional notifications: text messages, as we will explain in this ebook, unfold their potential throughout the entire customer journey cycle, not only in the post-sales phase. Promote products, offer discounts, recover abandoned e-commerce carts, up-sell, follow customer care: these are all activities to which SMS, if supported by best practices and adequate tools, make a decisive contribution. Touchpoint-SMS-customer-journey
In the pages of this ebook, we tell you and explain what activities are hidden behind a simple message of 160 characters.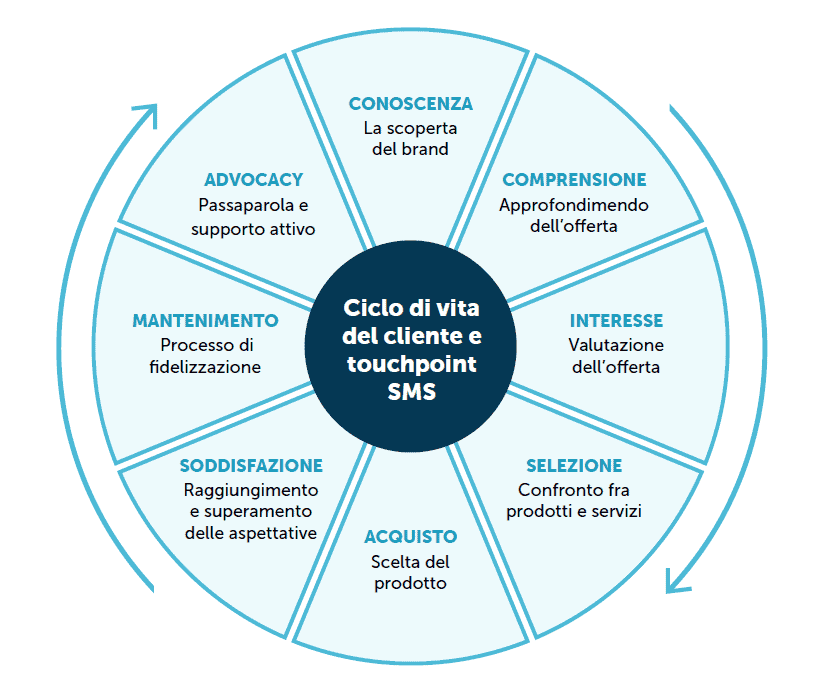 Types of SMS: Massive, one-to-one and Inbound campaigns
In spite of their apparent simplicity, SMS are a flexible tool that adapts to different types of use, depending on the objective, the phase within the customer journey and the type of communication to be transmitted.
Massive campaigns. These campaigns (also called bulk) are characterized by a type of one-to-many sending and are the favorites of those who use SMS for promotional or commercial purposes. Attention: bulk sending does not mean non-segmented and equal sending for everyone! The use of dynamic fields (such as the proper name) and correct segmentation (for example sending only to women residing in Milan) are crucial in defining the success of this type of campaign.
One-to-one campaigns. One-to-one messages are typically transactional ones, therefore linked to the confirmation of a purchase or the reminder of an appointment. They are characterized by the presence of unique fields linked to the specific customer (such as the order number, the time of the appointment or event).
Inbound campaigns. Stimulate interaction with the reader: ask him to reply to your SMS with a predefined message string and thank him, in a completely automated way. Inbound campaigns are widely used by non-profit organizations to raise funds, but not only: they are used to activate a service, to request a specific action or to respond to a survey.
What can you do with SMS? Ideas for real campaigns
SMS is a technology that allows you to decline each touchpoint depending on the business, the type of recipient and the offer. Here is a list of macro-activities that can be managed with SMS campaigns:
Launch a new product. Especially for loyal customers with the highest degree of involvement, SMS is the most direct channel to announce (and anticipate) the arrival of a new product or collection.
Offer coupons and flash sale. Nothing is better than an SMS to spread lightning or time-limited offers: coupons and so-called flash sales require fast delivery and immediate opening, to accompany customers to the nearest online store or point of sale.
Cultivate the relationship. By planning a campaign of "weekly tips" (an SMS every seven days), brands can create a solid bond with the customer, made up of regular contact moments to support or complement promotional launches.
Manage transactional communications. For customers, during the purchase and after-sales phase, there is no more pleasant channel than the SMS to receive order confirmations, purchase and access codes (user and login), receipts, service information such as an item has been shipped.
Ask for feedback and launch surveys. With an SMS you can invite your recipients to answer some questions useful for profiling the database, or ask those who have just concluded an order to give feedback on the shopping experience.