A virtual number n a nutshell it is a "fictitious" number (not associated with a physical SIM card) and which can also be temporary, useful for receiving / sending SMS messages or for activating applications such as Whatsapp. Below we want to focus precisely on this last point, namely how to create a virtual number for activate Whatsapp and then be able to use that number / account to send or receive messages from others.
The use of a virtual number is widely used in the context of Whatsapp Marketing, when a company or a professional wants to send massive messages to all its customers (or potential customers) via Whatsapp (for example through SendApp, a software designed just for send multiple messages from PC via WhatsappThanks to the use of the virtual number, you avoid using your own (and true) number and you prevent the latter from being banned by Whatsapp (which happens if you do not use various precautions).
Without this premise, if you are looking for create a WhatsApp account with a virtual phone number, below you will find a complete guide to obtain virtual numbers useful for verifying and activating an account. WhatsApp is the best instant messaging app in the world and is widely used because it allows you to stay in touch with others for free. As you know, after you install the Whatsapp app on your phone, you are asked to verify our identity with a phone number (via SMS verification) and without this verification the app is not activated and does not work. Thanks to a virtual number you can carry out this verification without the need for a physical SIM card.
What is it and how does it work?
AnonymSMS is a free online service thanks to which you can receive SMS messages online, without entering your mobile phone number. Better still, these online numbers are all based on real SIM numbers, which means you can view any information this number receives online. You don't need to register, just choose the required number and country. Use to receive messages from any online platform, anywhere in the world.
What is it for?
AnonymSMS offers the choice of many different temporary phone numbers to use for receiving SMS online. Whatever service you need to get verified, including:
Chat apps: WhatsApp, Viber, Telegram, Messenger
Social Media Platforms: Facebook, Instagram, Twitter, LinkedIn, TikTok and more
Dating apps like Tinder, Bumble
Email services like Gmail and Outlook
How to get Free Virtual Number
There are a lot of websites that provide temporary phone numbers online to get around signups on any app or website. By using temporary phone numbers, you will be able to hide your real cell phone number and keep in touch with other people. Below we list what we believe to be the best "suppliers" of virtual numbers (or fake numbers) to be used for Whatsapp (or even for other apps).
#1. Hushed (paid)
It is one of the most popular and used virtual number (disposable) providers. hushed is an app available for iOS and Android users.
With this app you will get a number to use and throw can be used to verify a Whatsapp account. But not only that, in fact it supports the sending and receiving of SMS messages, and also voice calls.
The price starts at $ 1.99 for a virtual number that includes 20 minutes of talk time (or) 60 SMS, and the validity is 7 days. It is possible to obtain an Italian (+39) or foreign virtual number, e.g. US, Canadian, etc ... (numbers from 45 different countries are supported).
For the verification of Whatsapp in reality only 1 message is enough, therefore 59 remain that you can use to register for example other "messenger" apps or social network accounts, if you wish.
Important note:Once you are inside the Hushed app and in the list of available phone numbers, open Whatsapp and enter the phone number you are about to purchase and press the Next button. If whatsapp shows an error like "+1 (205) 341 **** is not a valid mobile number for the country: United States" then you have to search for another number and repeat the process until you find the number that works. After entering a valid number in Whatsapp and clicking on the Next button, you will see a screen like this that will ask you if you want to proceed with the verification.
This message means that that virtual number can be used for whatsapp, and now safely proceed to purchase that number from the Hushed app.
Link app hushed for: Hushed for Android
Link app hushed for iOS: Hushed for iOS
#2. Talkatone (Free)
Talkatone is an app for Android that allows you to send and receive SMS and call from anywhere! It is a free app that you can download from google play. It is possible to access this app using your Facebook account and once logged in you can get a free phone number of your choice. TalkaTone is also good for obtaining a virtual number for WhatsApp, a number that will appear in the profile section of the app, immediately after registration.
Then open Whatsapp and enter the phone number shown in the talkatone app.You can proceed with the verification and activation of the account.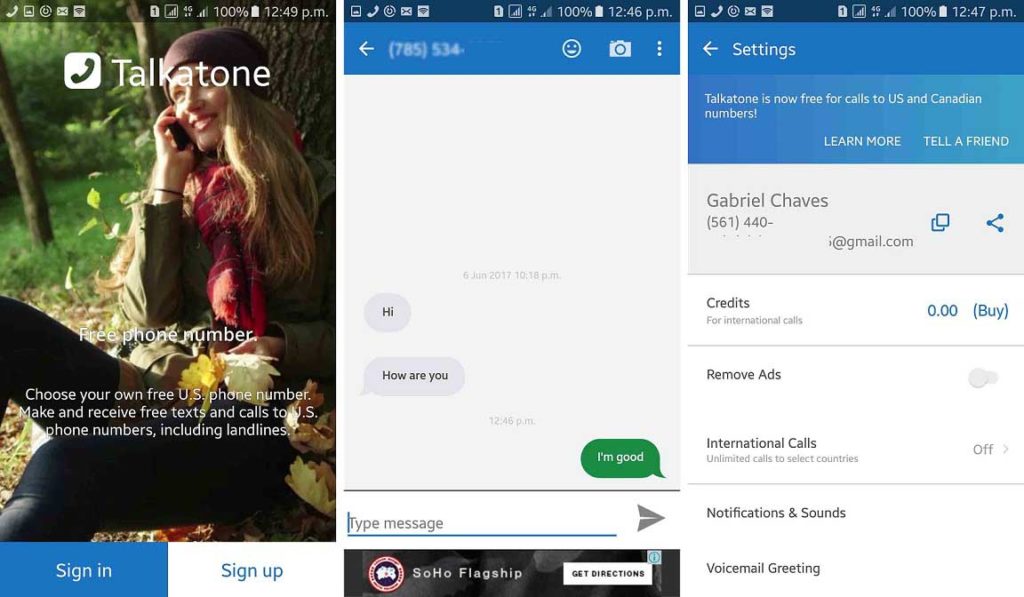 #3. SMS Receive Free
SmsReceiveFree.com is a provider of free temporary telephone numbers (online sms receiver). It offers 25 types of phone numbers from the United States, the United Kingdom, California etc. This service is free and new phone numbers are updated every 21 days. It is possible to use any of these "fake" numbers for the verification of WhatsApp even if it must be said that that number could then be used by someone else. Being a free virtual numbers service, it may not work well and you may have to try multiple numbers before finding the working one for Whatsapp.
---
How to Create Whatsapp Accounts with Virtual Number
Once you have a virtual number available, you can use the FonYou app to create the Whatsapp account with it. Here are the steps to follow.
Step 1.  Use the web app from This Page
Step 2.  Open the web app and register an account.
You have to fill in some information such as email, country, state, zip code. Accept the Terms and Conditions a and finally click on Continue.
SMS-man is a provider of temporary phone numbers (website to receive SMS online). It offers phone numbers from Germany, England, China, USA and other countries. The website offers over 300 countries and 1,000 popular services for activations via SMS. This service is free / Paid and new phone numbers are updated every day. You can use any of these virtual number to bypass SMS verification and create Telegram, Instagram, WhatsApp, PayPal accounts and more. We guarantee and have to say that the number upon purchase cannot be used by someone else. Sometimes number may not work correctly and you may need to try different numbers before you find one that works for your service, but is not a problem because the balance is deducted only after receiving an SMS or you can use free numbers.